Posted By Dan Travers on March 3, 2013
3/3/2013
Pressure from friends made me write this.
About a  year and a half ago, Tammy and I wanted to apply for a Teva Life Agent Grant for this project.  We thought making a video application might not be too hard.  Well, we  were wrong, but thanks to the tireless efforts of one Jessup Bangham, we completed it…just in time for Teva to pull the grant off the table.  Anyway, we all get good laughs from our horrible acting, but at the same time, it captures the spirit of our adventure, framing it in the voice of  the great movie, a must for all adventurers: The Man Who Would Be King.  Here is the YouTube Link.
http://www.youtube.com/watch?v=G1sS-Y0L9HM
If you comment, please be merciful….
Cheers!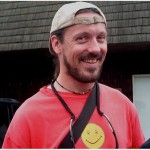 -Dan