We depart in the morning, our San Marjin hosts who are now our friends, all helping with our expedition bags and gear.  We are told over and over that we are welcome to return any time and they will help us some more.
Our route takes us through the mighty Pongos de Menseriche, where for 9 months of the year, the route is impassible, blocked by enormous rapids that flip any boats that dare to try it.  Clark estimated the speed of the high river through here at 50 MPH!    It is the only real exit from the valley where we have been exploring these past 10 days.  70,000 Aguarunas reside in this valley, economically, and nearly physically trapped between the high Andes and this one treacherous river outlet.  But today, the river is even lower than when we came through here five years ago and while the passage is dramatic, it is relatively easy.  Giant boulders, polished like marble from the sediment-laden flows, glisten in the sun.  Part way down through this slot a small stream pours into the river.  We stop here and explore upstream for fossils.  We find numerous ammonites, scallops and other ancient seafloor remnants, lots more bullet ants and a beautiful swimming hole.  We jump in for a cool swim, but one of our guides is missing.  It turns out he recalls this place as the site of many jaguar sightings and one actual attack.  He'd rather remain near the boats.  It's disconcerting for sure, but we're a good size group so my personal odds of being eaten are no worse than 1 in 13.  Besides, Ashton is tastier.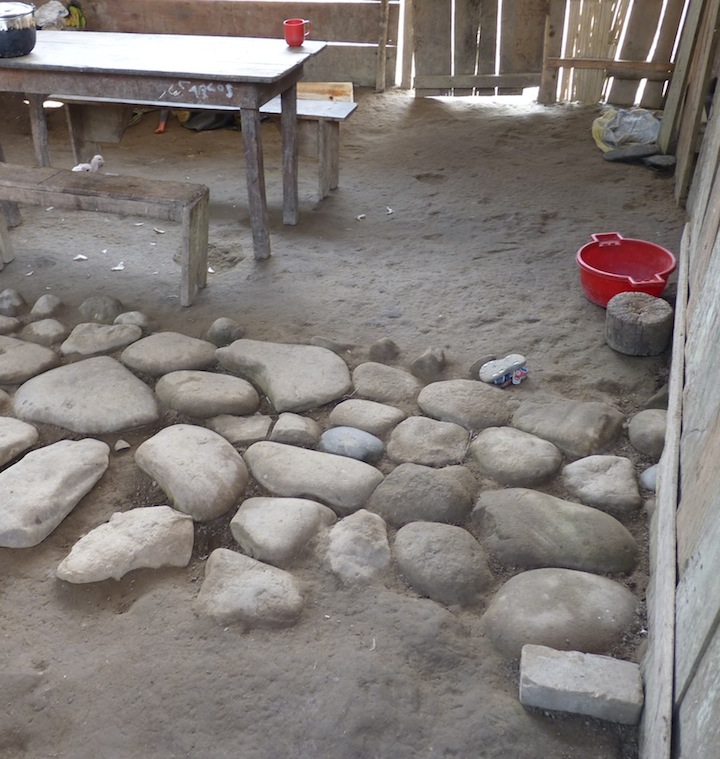 We get to Borja, the most upstream town reachable year round, around lunchtime.  We expected to spend the next day and a half exploring a site across the river rumored to contain old Spanish church ruins, but we never get there.  Instead, we interview locals to hear what they know about the history of this place.  Clark was stuck here nearly a month searching for a way upstream, but no one seems to recall this event.  However, our main interview subject can't even remember how old he is, so we follow another lead and are guided to an amazing, really old, cobbled road, that runs through someone's animal barn, their yard, across their neighbor's field and disappears under the grass.  It is so primitive in construction yet so deep and oddly located, that I seriously think it may be many hundreds of years old.  No one has (yet) written a book on the road construction styles of the upper Maranon river, so I can't yet confirm that it belongs to the Spanish of the 1500s, but it is not rubber Baron (they used concrete), nor Jesuit missionary (their settlement sight was quite a distance from here).  By the time we get back from exploring this, the locals are lining up to tell us everything they know (and some things they don't know) about Borja.  At first, we are heartened, but then we realize this is because we paid the old man 20 Soles for his time and now everyone wants a story teller's fee.  However, many of the stories center on one curious theme;  An ancient golden bell that was stolen from the earliest Spanish settlers and dumped in the river by the Aguarunas in the hopes that would get the intruders to leave.  We wonder if this is the bell Clark spoke of, a portion of which had been found a hundred years ago, partly buried in the sand along the river. We'll never know because our investigations have to be abruptly cut short by a day.  So few boats come up this far upriver that our downstream travel options are very limited.  We must leave now or wait another week.  One of the locals from Borja calls the boat operator and asks him if he will delay his departure by one day.  Since we're the only paying customers in the region, he says, "yes."  This gives us time to complete interviews, but not explore the hill across the river.  Everyone accepts this as that nature of remote river exploration and soon we are on our way downstream once again.